Details
Date:
March 11
Time:
06:00 pm - 09:00 pm
Click to Register:
Click to Register
Venue
Smith's Landing Seafood Grill
1 Marina Plaza
Antioch, CA, United States, 94509
Join us at Smith's Landing Seafood Grill, Saturday, March 11th at 6PM, for a winemaker's dinner celebrating the wines from Livermore Valley's Wood Family Vineyards.
$95 Per Person (Not including 20% auto gratuity & sales tax) $95.00 + $19.00 Auto Gratuity + $11.11 Sales Tax = $125.11
IF YOU WANT TO BE SEATED WITH SPECIFIC PEOPLE PLEASE MAKE SURE TO LIST YOUR REQUEST IN THE NOTES SECTION DURING CHECKOUT.
5 Course Menu Created By Executive Chef Jesus Martinez
First Course:
Watercress Soup –
potato rösti | poached egg | black pudding crumbles
Paired with 2022 Albariño
Second Course:
Seafood Cannelloni –
crab | shrimp lobster | 3 cheeses | spinach | carrots | cream sauce | pea shoot salad
Paired with 2021 "Para Mas Amigas" Chardonnay
Third Course:
Spiced Lamb Loin –
tabouli | cannellini beans | tomatoes | kalamata olives | green garlic sauce
Paired with 2019 Merlot
Fourth Course:
Filet Mignon
pommes anna | mushroom purée | celeriac | carrots | beef jus
Paired with 2022 "Viva" Cabernet Sauvignon
Fifth Course:
White Chocolate & Raspberry
Chocolate Tart
fresh berries | raspberry coulis | sea salt
Paired with 2020 Pink Pearl Rose
About Executive Chef Jesus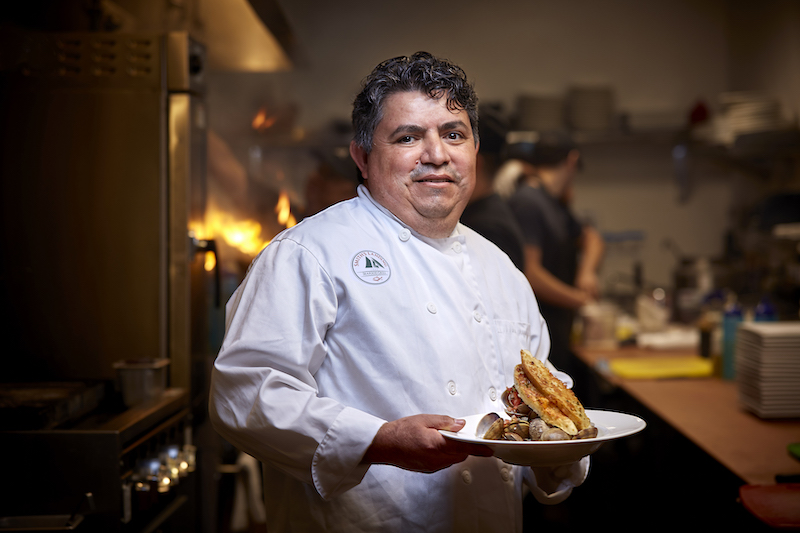 Chef Jesus graduated from culinary school in Mexico and has been in the restaurant industry for 23 years. He also oversees the menu at Zephyr Grill's locations in Livermore and Brentwood. With winemaker's dinners such as these, Chef Jesus says he enjoys the "challenge of finding the flavors and dishes that pair with the wines."
One of the most versatile chefs in the area, Chef Jesus enjoys regularly changing up the menu at all three restaurants he oversees, and owners Lynn and Randy Tei say "he does it all" — Italian cuisine, Chinese, American, French, Asian, and Mexican. For special events like the winemaker's dinners, "he does a fantastic job bringing out the complex wine notes with his dishes," Lynn said. A "foodie" at heart, when Jesus isn't working, he lovingly tends to his herb garden and fruit trees. Over the years, Chef Jesus has collaborated with several local wineries, including Bloomfield Vineyards, Petersen Vineyards, and McGrail Vineyards, to name a few.
About the Winemaker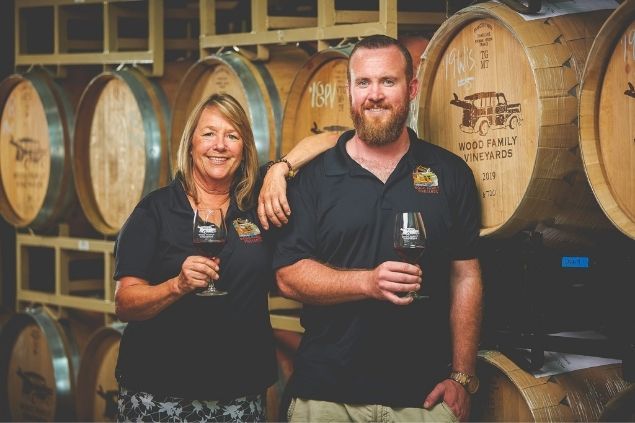 The year was 1991 and the policy at USAirways, Inc. for pregnant pilots was to take a disability leave of absence from the first they knew of their pregnancy. Rhonda took leave in 1991 and with 9 months on her hands she found time to do things she had wanted to do for awhile. She proceeded to get her flight instructor rating renewed. She skied the slopes of Vail, CO with Gail Tworek Martin and Gina Grisofi (two other female pilots on leave under the same circumstance). She heard an "Old Wives Tale" that… beer is good for the breast milk. When she heard this she figured home brew would be better and started brewing her own.
After a couple years of home brewing, Rhonda wondered why she shouldn't start making wine. She and Michael enjoyed wine together in the evenings and touring vineyards and wineries together.
They planted 18 grape vines in their backyard in Fremont with the intention of learning how to make wine. Before harvesting their backyard crop they discovered Livermore Valley during the Harvest Festival in 1995. They saw a vineyard property for sale and determined they could purchase this property in the Bay Area while still working/commuting to their day jobs in San Francisco and Sunnyvale.
Michael continues to commute to Sunnyvale and helps during harvest and everywhere else year round. Rhonda commuted to San Francisco Airport until she took a leave of absence in 2001, taking up wine making full time and resigned from USAirways in 2006.
Rhonda continues to further her education in the wine industry by taking extension courses at UCDavis, courses offered at laboratories, other wine classes offered around, discussions with winemakers and reading industry magazines.